This spring is already in full swing, however, it is a bit different from what we have experienced so far. Now we have the opportunity to enjoy all these "ordinary" things we have taken for granted, as for example, nature, to perceive it much more intensively and to appreciate this time spent outdoors more.
Every spring I'm excited to change my wardrobe, put off coats, boots, and all the wintery things and I'll make room for spring and summer clothes and I'll be able to finally wear my favourite skirts/dresses because it will be warmer. This spring is different, as we can dress up, only to the shop, post office, or a walk with the dog. However, I hope that it will soon be safer to meet, organize appointments, various events, and have the opportunity to dress nicely even among people.
I know that it now attracts you to order new clothes, as the sites offer free shipping or have large spring sales. I don't want to tell you that the crisis is just behind the corner and you need to have financial reserves and not spend the money recklessly because I believe you already know that.
I want to help you to spend your money carefully and see what is trendy in the spring of 2020 and in which pieces it pays to invest and which, conversely, prefer not to buy, because they won't stay for long in fashion.
Let's have a look what will be trendy this spring!
Material: SILK
Spring 2020 is definitely going to bear in the sign of silk. Tops, shirts, skirts, dresses, pants, scarves… Basically, everything made up of silk you can imagine. As you already know, silk tops are my must-have, especially in summer. You can read all about how they can be combined here. But I decided to enrich my wardrobe for another silk piece – an appressed skirt in a rose gold colour. Although I don't really like skirts in the MIDI length, in this case, I do not mind it at all, just the opposite.
#handmade
Kneeling, stripling, embroidery… All those activities of our grandmas have found to be popular even in 2020. Individual pieces can be purchased in stores but also done at home. Especially trendy should be a crochet dress, almost like a mesh, which I'm not a big fan of. Therefore, I would choose, for example, a crochet bralette as you can see on @sweetladylollipop in all denim outfit. This is just right!
Suit
Another piece that has gained great popularity is the suit. The whole spring 2020 will carry in colours and it won't be otherwise, in the case of suits. The more noticeable the colour the better. The suit is cool on the fact that you can wear it as well as complete, or just flip a coloured jacket to an ordinary jeans and improve a seemingly simple outfit. The TOP trend is also Bermuda shorts, which in my opinion, is not suitable for any body type and won't last even this season. As well as the bicycle shorts that have been trending the last spring. I am not a huge fan of neither of those trends and for me personally, it's an undesired return to the last century.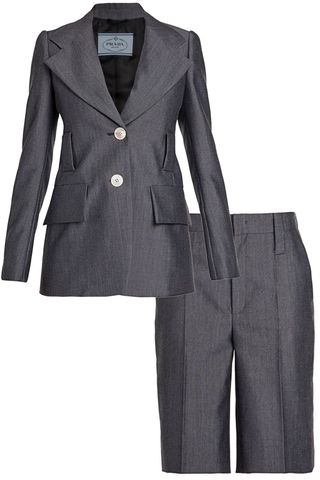 Good quality and affordable suits are sure to stay on www.zara.com directly on this link. They have a huge choice of different styles, patterns or types for everyone.
But I do not give up on a classic long suit. ☺️
Lacing Sandbats
On my previous outfit, you can see another trend that can make someone come a little extravagant, but according to my opinion, it will be at least as famous and popular as the bent ends on jeans. I am speaking about the lacing sandals, which bind through the pants. This will create such a fluffy effect as theoversized pants at the same time will show very nicely. Such sandals can be used in other outfits as well, and mostly with the square toe, which is not for me at all, but I still have found my favourite with bare tip.
Pattern: POLKA DOTS
At the moment, some people are still holding on a leopard or other animal pattern, but it is slowly replaced by a pattern of polka dots. Big, small, colourful or black and white… You can imagine. The dots are extremely popular on stockings or dress. We can also find them on the nylon socks, which are currently worn in heels or sandals. According to me, any high socks shorten one's legs and this is not something that I am going for, so this "sock" trend is also missing from my wardrobe.
In the video of 3in1, in the last outfit, you can see as I have styled the dots into my black look.
In order to have an idea of how cool those socks can look like in the outfit, be sure to check out the profile of @denisa.vysnovska In my opinion, this outfit is perfectly combined. The only downside to these socks is that, as I have already mentioned, they shorten the legs. But they definitely don't look bad.
I just want to remind you that this is something that is trendy this spring and may (not) stays a trend for long, so please invest only in the things you really love and you will be able to combine them into more outfits. You can also incorporate each trend into your style to match it. If you don't like anything from these trends and don't want to wear it, it doesn't mean that you won't be IN, or you don't know what to wear. The contrary. You'll show that you appreciate your style and know what you want. Trends are just such a glitz that can make the outfit a little bit more modern, but of course only if you combine it correctly.
PS: Let me know which trend you don't like, or which you will add to your wardrobe.
Love
Karinka