Everyone talks about it, everyone creates it, but you don't know it and you can't figure out how to change it. Even so, the definition of a capsule wardrobe could be summarised in a nutshell. And this is also the reason why you clicked on this article-you want to create one.
Well but let's start with basics. First of all, I will explain to you exactly what the capsule wardrobe represents. Then we'll follow a simple step by step list and create your very own capsule wardrobe.
A capsule wardrobe is a wardrobe created from a certain number of pieces of clothing, which is seasonally changing. The point is to make the individual pieces in it easy to combine and thus save us time when picking the right the outfit for an event.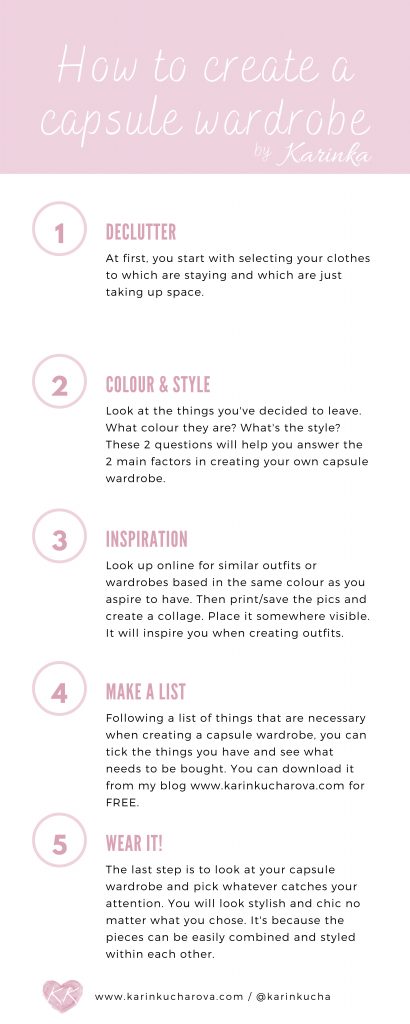 Step 1. DECLUTTER
Open your wardrobe with clothes. When did you last sorted it? I mean really in-depth. I suppose it was a long time ago. Everything needs to be selected out. Put back only those items which you really wear. Not what you can wear for some occasion, which has not occurred for 3 years but you still believe that such a thing will appear. Nonsense! You've got other things in the closet, after which you would have reached out if such an occasion suddenly appears. It doesn't matter whether the item has cost you 3€ or 300€ it is just taking space in your closet equally. You can move these unsorted things to friends, sell them, put on charity, or create something fresh out of them.
Step 2. COLOR & STYLE
Try to look at things that have remained after sorting. What are the colors? What's the style? These 2 questions will help you answer the 2 main factors in creating your own capsule wardrobe.
Colour range – in which tone and colour will be your capsule wardrobe (pastel, vibrant, neutral…)
Style – dress-up to the style you tend (romantic, rock, elegant, streetwear…)
Alternatively, if you are not satisfied with what you left in the closet, you can easily change the style or colour of the wardrobe.
Step 3. INSPIRATION
When creating something so important (because you have to wear something) such as a wardrobe you need to have sufficient inspiration. I emphasize inspiration! Not that you open a profile of some Instagrammer and you buy everything that she is wearing, just because she's gonna match the style. So do not copy, but look for inspiration! When we have this clarified, you open Pinterest, Instagram, Daybyme… Or anything else where you can find inspiration. You enter keywords, either already associated with colours, or the style of things you want to have in your wardrobe. These pictures of outfits that you like print or save and create a collage out of them. This will work as an inspiration if you won't know what to wear and it'll show you the way how your wardrobe should look like.
Step 4. List
Here comes the hardest part of this process and it is buying the right clothes. The hardest because you have to earn that money, but also because to find the right thing you are looking for sometimes lasts even weeks, not just hours. According to the list you find below, you can mark what you already have and what is in your wardrobe missing. Therefore, you will know what you have to focus on when shopping and make the whole process easier.
You can download it FOR FREE HERE.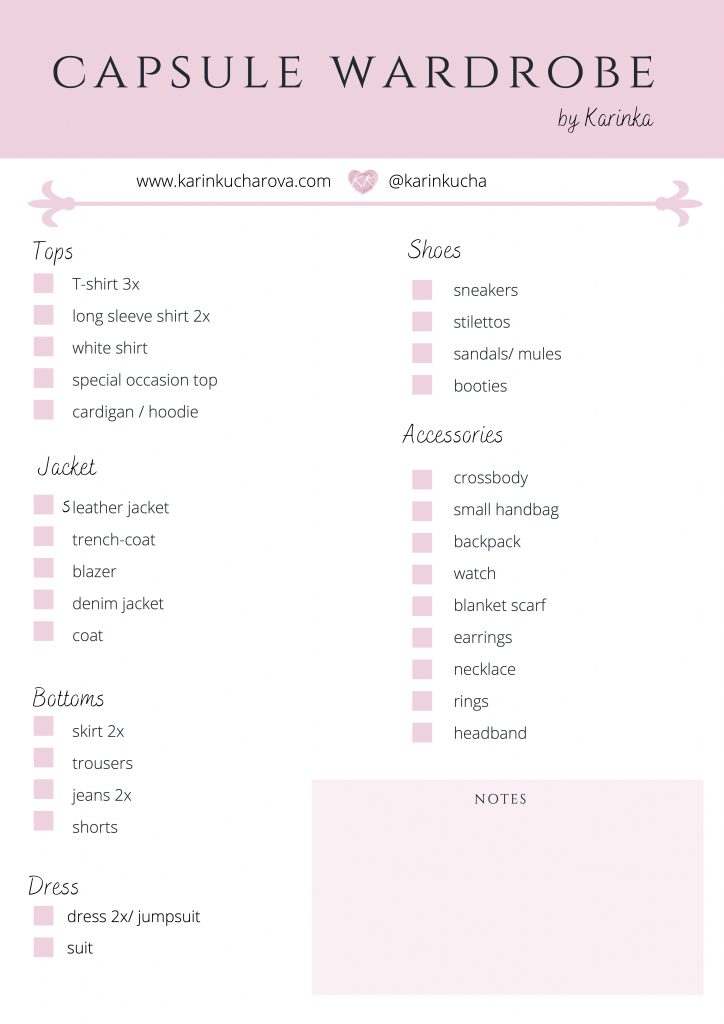 Step 5. DRESS UP!
So and now you just need to open a wardrobe, literally pull the first thing that attracts your eyes and it will look awesome! Because you finally have all the necessary pieces of clothing in your wardrobe that can be easily combined.
I hope that today's article helped you in creating your own capsule wardrobe.
Love
Karinka